March 24, 2017
Quad Tours
Ever done this before?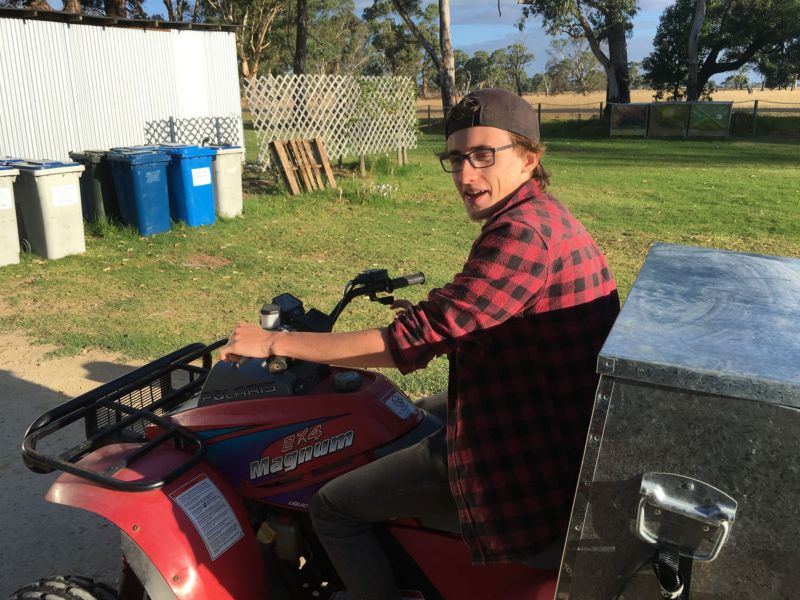 The quad bike is an essential tool of the farmer but city livers hardly ever get the chance to ride them. Easier than a motorcycle, handling-wise they are a cross between a car and a jetski. Capable of speeds up to 80 kms hour, with 4 wheel drive and mcpherson strut suspension all round, they can handle any territory you are likely to encounter.
We have 3 Polaris Quads and one Hammer 4 wheel 2-seater buggy. You will have the opportunity to take them off-road into the bushland via our 1.9km private track which has been especially designed to be challenging and fun for new riders and experienced pilots alike.
Our personally guided tours and training are packaged into 1 hour sessions. The first 20 minutes focuses on safety, helmets and gloves, handling, stopping and starting and gears. Then we lead the group (up to 3 riders and one passenger) into the bushland track in low gear for one lap, returning to the shed to regroup before we head off for a second lap in high gear (goggles required).
Quad and motorcycle riding is an inherently dangerous activity. All riders and passengers must sign a Limit of Liability form before proceeding. Youngest riders allowed are 12 years old. One person only per quad, two persons in Hammer. Any damage to the vehicles is your responsibility - we will advise the estimated repair cost and you must pay that amount. After repairs are completed you will receive a written invoice and balance of funds paid. Most repairs are carried out by the park staff.
Bookings can be made at the same time as you book your camp site, bell tent or cabin - choose as an extra. If you booked through Airbnb or Booking.com, Wotif etc, order a Quad Tour on arrival and we will try to fit you in!